This video shows some of the shops Bill and Rae Grout work out of and how they take care of business creating and selling their handcrafted designs.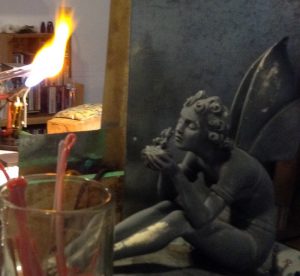 To love is to breath into one's heart, and Bill and I breathe with fire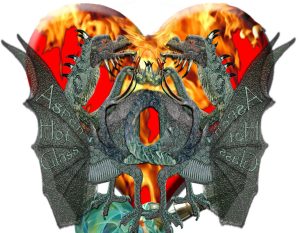 Blown Glass, Steampunk and Miniature Terrain Building
Bill and Rae are full-time artists from Corvallis Montana. "We are science geeks to glassblowers". They both have technical backgrounds in the high-tech avionics industry but left corporate life to live their dream.
Bill became a full-time artist and started blowing glass in 1993. He specializes in the vortex, contemporary marbles, hummingbird feeders, and Pixie Orbs.
Rae left the corporate world in 2002 to be with Bill and become a full-time artist/glassblower. In 2016 Rae began incorporating metalworking steampunk designs, and terrain building into her art. She has been building scale model miniatures since the mid-'70s and loves combining her love of Wizards of the Coast and all the wonderful fantasy/tabletop games along with and science fiction role-playing games like Harry Potter, Magic The Gathering, Dungeons & Dragons, and many more. His miniature creatures and dioramas become gaming or display pieces.
Together they live on a small farm that includes orchards, an extensive garden with a greenhouse, a Steampunk shop, a Torch shop for torchwork glass blowing, a Bills observatory, and Man Cave equipped with an electronics wing, and Brewhouse.
They have a Youtube channel ~ Bill & Rae Show ~ that they post how they blow glass, brew beer, make soap, and live on the farm in general.
Their farm has fantastic views overlooking the Bitterroot Valley of Montana. Together they spread love and harmony, sharing this fantastic journey called life.
Their company is Aspen Hot Glass specializing in blown glass hummingbird feeders, Pixie Orbs, contemporary vortex marbles, bottle stoppers, shot glasses, cabinet knob/ drawer pulls, Steampunk designs, terrain build dioramas, RPG creature game pieces, and more. These can be purchased on either their Etsy site or their Shopify site.
They work out of their home tucked away in the heart of the Bitterroot Valley but can be found at the local Saturday farmer's market in Hamilton Montana from May to October.
Bill and Rae at the Hamiltons Farmers Market
They also blow glass art Ravally County fair.
This is their home overlooking the Bitterroot Valley in Corvallis Montana. They live in a private setting that enables them to create inspired by the beauty that surrounds them. Along with their glass blowing, steampunk shops, and man cave they also have astrophotography set up. Pictures of the galaxies and nebulas Bill photographs can be seen on his blog at sagecottage406.com/astro/astro-blog/